"Intergalactica" by Via Lewandowsky at Art on Lake Photograph by Stefan van Drake (2011)
Berliner Via Lewandowsky wants to leave his body to science if his brain could be exhibited posthumously in a man-sized stainless steel cylinder with a glass lintel, his last installation.
He says this provision exists in his last will and testament.
Via Lewandowsky
In Lewandowsky´s "The Artist´s Brain," the concept artist created a painting in 1998, almost a poster of sorts, showing how he wanted his cerebral display to look, black box and all.
Dr. Alexander Tolnay, one of three curators for Art on Lake in Budapest, asked Lewandowsky to put something together specially for the 25-European Union contemporary sculpture marine exhibition.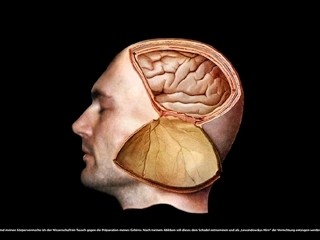 "The Artist´s Brain" by Via Lewandowsky 1998
Lewandowsky, who is rarely caught without a concept to conjure, ultimately opted for "Intergalactica," a perfectly normal portable privy planted firmly in half a meter of water that cries out sounds from outer space.
All this resonating across the dimpled, algae-green waters of City Park Lake at Heroes' Square in central Budapest.
Born in Dresden in 1963, Lewandowsky wanted his concept for Art on Lake to "build on the contradiction between the idyllic surroundings and natural disasters," wrote Peter Fitz, co-curator and editor of the show´s catalogue.
The artist originally wanted to create the illusion of an oil or toxic spill at Art on Lake, but then along came BP´s Gulf of Mexico tragedy followed by Hungary´s own horrific, toxic red sludge catastrophe near Ajka last October.
Lewandowsky shifted plans, ending up with his porta-potty in blue and white, acoustically accentuated by sounds of another world not normally associated with the object.
Lewandowsky´s works span a wide variety of genre: performances, paintings, sculptures, installations.
According to online literature, the artist walks the path of early Dadaism and Surrealism.
"Intergalactica" by Via Lewandowsky at Art on Lake 2011


Rock on and practice peace and love.
Stefan, the ArtTraveler ™
ArtTraveler notes:
After living at the Hotel Queen Mary in Budapest (3.5 stars), I heartily recommend it: old on the outside, otherwise totally modern (23 rooms);
The owner and staff are affable and speak English and German. Tel: 0036-1-413-3510; www.hotelqueenmary.hu; info@hotelqueenmary.hu.
Visit Andalusia for a walking holiday or week-long sculpture or mosaics workshop.
"Spanish Life Stilled," photograph by Stefan van Drake (2009)







You may reach me at stefanvandrake@gmail.com or by calling (34) 915 067 703 or from the UK at BT landline rates, 0844 774 8349.
"Full Moon Porta-Potty" at Sziget Festival - Budapest Photograph by Matthew Z. Zomick (2011)