"This-just-out-Paintant" by Fabian Marcaccio (2009)
Memorializing sculptor Bernhard Heiliger (1915 – 1995), the foundation of the same name set up in 1999 recognizes sculptural works "with intrinsic significance irrespective of art-market fashions, which has contributed considerably to sculpture or to the perception of sculpture as an art form," an official news release said.
What is a "paintant" you may ask? I did.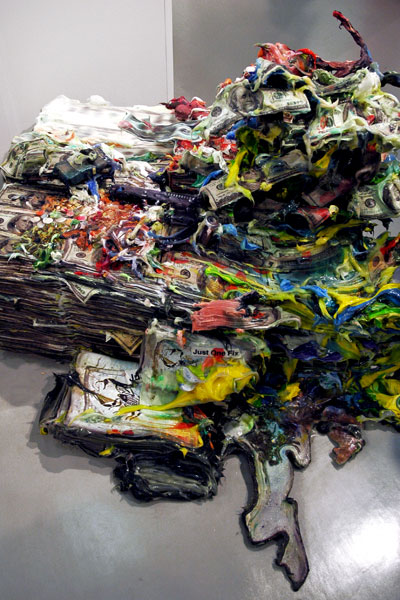 A work by Fasbian Marcaccio
It´s a hollow but three-dimensional mutation of painting and sculpture using cotton duck or heavy duty canvas, treating it with a polymer medium and aluminum micromesh, on which you paint and play at will.
"The surface is printable, paintable and foremost, sculptable," Maraccio, born in Argentina, says on his official website. "It can be constructed and deconstructed. Assembled and disassembled. It´s 3D but not a solid object."
Marcaccio adds: "Paintant values mutation and corruption as producers of links and resonates with our multiple realities."
Regardless of the author´s or curator´s textual descriptions, it is the image that counts.
The artist moved to New York at age 22 and has lived and worked there 26 years.
Marcaccio´s abundant CV reveals numerous solo and group shows worldwide.
Wikipedia reports the artist employs digital and industrial techniques to "infuse his painting process with spatial and temporal concerns."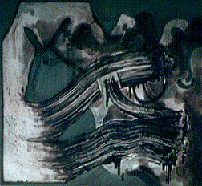 "Untitled" by Fabian Marcaccio
Rock on and practice peace and love.
Stefan, the ArtTraveler ™
ArtTraveler notes:
After living at the Hotel Queen Mary in Budapest (3.5 stars), I heartily recommend it: old on the outside, otherwise totally modern (23 rooms);
The owner and staff are affable and speak English and German. Tel: 0036-1-413-3510; www.hotelqueenmary.hu; info@hotelqueenmary.hu.
Visit Andalusia for a walking holiday or week-long sculpture or mosaics workshop.
"Spanish Life Stilled," photograph by Stefan van Drake (2009)







You may reach me at stefanvandrake@gmail.com or by calling (34) 915 067 703 or from the UK at BT landline rates, 0844 774 8349.