A public sculpture by Tom Otterness
About 35 years ago while making what Tom Otterness called an "art film," he chained an adopted shelter dog to a fence and was filmed shooting the animal dead.
The artist called his film, "Dog Shot Film."
It was 1977 in New York City. Otterness was 25 years old.
In about 2007, author and philosopher-academic (New School, NYC) Gary Indiana publicly exposed Otterness´pre-meditated murder of the hapless and helpless black and white shelter dog, according to Wikipedia.
Tom Otterness
The furor over his past forced him to ultimately admit his evil ways.
In 2008, Otterness publicly apologized after a heated controversy over two bronze lions an anonymous donor commissioned him to build and install at the entry to a Bronx public library for a reported $750,000.
And Otterness, most of his professional life a public artist, rose to become dog lover´s Public Enemy No. 1.
A work by Tom Otterness
His past continues to dog him. (I´m sorry; I simply couldn't resist.)
Despite petitions and protests, the bronze Bronx lions, with enhanced provenance, went ahead as scheduled. They cost the public nothing.
The artist knows how to get public commissions.
Otterness, beginning in 1978, started receiving U.S. government grants for his work.
In 1977. one of the original members of the Lower East Side art collective—CoLab (Collaborative Projects)—Otterness lived with the black and white adopted dog for some days, fed it and cared for it before eliminating it as art.
Now, the controversy has spread to the west coast.
San Francisco, poised to fulfill its $750,000 contract with Otterness to build a series of cheerful and funny sculptures for its $1.6 billion light rail Central Subway, has put the commission on hold, according to SFCityInsider reporter Stephanie Lee.
The city bureaucrats charged with vetting artists claim they had no clue Otterness had a history of, to put it mildly, inhumanity to animals.
Otterness faces losing another San Franciso commission, a $700,000 contract to adorn San Francisco General Hospital and Trauma Center sometime in 2015.
That´s on hold also, Lee reported 20 September.
Playground sculpture by Tom Otterness
"Shot Dog Film,"
the Otterness canine snuff film, debuted at 42d Street.
In an online recorded interview shortly afterwards, there is this exchange:
Question:
"You said earlier that when you showed "Dog Shot Film" at the screening room at 42d Street that you wanted to hurt the viewers.
Otterness
: "Yeah, I mean that whole night on 42d Street, as best as I could do it, was the most aggressive way I could think of to show a film, the most damaging thing that I could do to the audience by showing a film.
"I hired a photographer with a camera so when people were leaving the theater, they were assaulted by a flash, attacked."
In the same purported interview, Otterness was recorded saying:
"The "Shot Dog Film" was made before the four fight films (boxing). It´s about fucking someone…getting fucked by someone. That´s what the fight films are about, too. Running over someone; defeating someone, being defeated. They´re the same thing in those two films."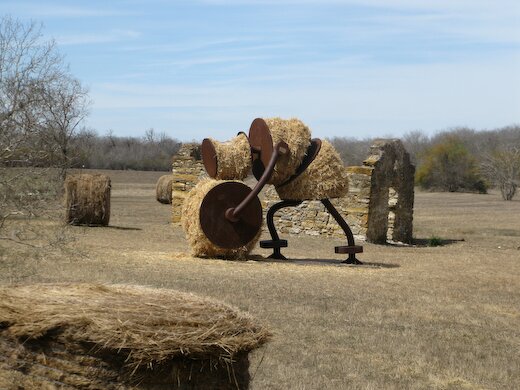 "Makin´ Hay" by Tom Otterness
In an interview with the Observer in the artist´s Bronx studio, journalist Michael H. Miller asked him about "Shot Dog Film."
Miller recorded this exchange:
"What the fuck do I do with this?" he said. He grew visibly upset. "Certainly the scene it was part of ´´it was in the context of the times and the scene I was in." He began again. "It is something I´ve brown to understand that nothing really excuses this kind of action. I had a very convoluted logic as to what effect I meant to have with that video. Whatever I had in mind, it was really inexcusable to take a life in service of that."
And what about Otterness as the anti-establishment antagonist against capitalism through which he has thrived? The Observer quotes him:
"I mean the inherent contradictions of where I came from and where I am.
"To be a critic of capitalism but to have these benefits? That´s kind of strange. But I made this gamble knowingly. It´s a conscious risk or sacrifice—either way."
The online comments to the Otterness dog murder are mixed. Some think he needs heavy duty shrinking.
Others, even one dog owner, forgave him.
Some say what he did 34 years ago should not reflect on his art. Let´s judge him solely on his works.
One dog owner, however, said he wants to shoot Otterness. An eye for an eye.
The majority appeared upset and angry, perplexed.
It´s not like Otterness said he was stoned on acid at the time of his murdering the dog and immediately went in for drug rehab, turning himself over to police so justice could be done.
Acts of moral turpitude, even misdemeanors, become part of public domain when public funds are involved and should be considered for public art projects.
One might love his work but fail to find ways to appreciate it given this sordid history.
Rock on and practice peace and love.
Stefan, the ArtTraveler™
Art travel to Andalusia, to our mountains for a week-long mosaics or sculpture workshop or walking holiday.
See: www.spanjeanders.nl and www.competafinearts.com.
Islamic art and design at Granada´s Alhambra, photograph by Stefan van Drake (2009)
Contact me at stefanvandrake@gmail.com or by calling (34) 951 067 703, or from the UK at BT landline rates, 0844 774 8349.
ArtTraveler video offering: A most talented soprano sax player scores coins at Southward Underground Station, London.