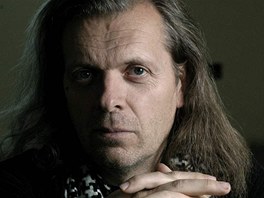 Jiri David
"I don´t know what I am; I don´t know what I mean; I don´t know what and for whom I create; I know neither the sense nor the reason of the origin of my previous works' meaning, although the meaning is often recycled."—Jiri David
When provocative art and freedom to express it flourished.
"Cane for the Blind" by Jiri David in Prague
Then Soviet troops and years of repression.
Contemporary Czech artist David, now 55, like a handful of other avant-garde artists behind the Iron Curtain, understands cultural memory well.
He joined a group of underground artists called (depending on translation) "Hardheaded" or "Stubborn."
A thorough journey through his official website reveals a humanist-artist whose works carry pointed political and social messages, an artist who experiments, frequently changing modalities, styles.
For David, all art is political and that´s why, in his own words, "…it [art] must not be placed in the hands of any culturally political, ideological apparatus, and as such, is handed over to self-professed, authorized interpreters, commentators."
It´s unlikely David didn´t know the concept behind his five-meter high "Cane for the Blind" at Art on Lake, which opened 22 May and closes today, 4 September.
Art on Lake´s marine sculpture garden in central Budapest showcases works of 25 European Union contemporary sculptors.
The show, organized by the Museum of Fine Arts Budapest, in its earlier literature, paraphrases David, who said the red and white cane has three "clearly distinct functions": to convey information, drawing attention to the disabled person; the cane helps the deaf and blind person find his way; the strap on the cane provides a means of support.
Pretty straight forward, not particularly conceptual. Has David recycled himself?
Ergo
, it is what it is, only allot larger and prominent, first shown in Prague and now in Budapest.
"The giant white cane also helps people to find their way and raises attention: It reminds the rest of us that not everybody around us in the world has the same abilities and opportunities," wrote co-curator of Art on Lake Peter Fitz in the exhibit´s catalogue.
"Cane for the Blind" at Art on Lake Photograph by Jason Edward Kaufman (c) 2011
In earlier Art on Lake literature, curators (also including Krisztina Jerger and Dr.Alexander Tolnay) refer to Canadian writer and political activist, Naomi Klein, noting that David´s game is a "cultural playground…to use subversive images to communicate the message."
Multi-genre David describes himself as a painter, (many different chapters), photographer, video and installations artist.
David has exhibited widely in the Czech Republic, also in Scotland, Portsmouth, UK, London, and Budapest at the Ludwig Museum, which also bought his work for its permanent collection.
Adopting the mantra of contemporary Czech philosopher and friend, Vaclav Belohradsky, David wrote:
"Each person is a text which is searching for its model reader, each hoping that someone reads it in the way it was written, how he came up with the actions and ideas inscribed in his life."
Rock on and practice peace and love.
Stefan, the ArtTraveler ™
ArtTraveler notes:
After living at the Hotel Queen Mary in Budapest (3.5 stars), I heartily recommend it: old on the outside, otherwise totally modern (23 rooms);
The owner and staff are affable and speak English and German. Tel: 0036-1-413-3510; www.hotelqueenmary.hu; info@hotelqueenmary.hu.
Visit Andalusia for a walking holiday or week-long sculpture or mosaics workshop.
"Spanish Life Stilled," photograph by Stefan van Drake (2009)







You may reach me at stefanvandrake@gmail.com or by calling (34) 915 067 703 or from the UK at BT landline rates, 0844 774 8349.