"Ghost" by Kong Lingnan (2010)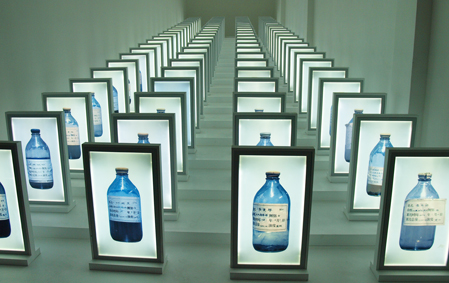 "X-Blindspot" by artist & curator Yang Shaobin
Beginning today, 17 May at the gallery in the heart of the 798 Art District, UCCA staged a "Dialogue with Wang Jianwei & Hong Huang—Rational Violence."
The very phrase, rational violence, without visuals, suggests any number of scenarios.
Is it rational violence for China´s security apparatus to maintain consummate stability and 10 percent annual growth--damping down dissent--as it pursues tenacious, raw and aggressive Wall Street style capitalism?
The schizophrenic but so far successful approach the Communist Chinese employ, for them, makes good sense.
We in the west look in awe at the explosive economic engine and mega creditor China has become.
Ai Weiwei & rational violence
Americans, in their duality and hypocrisy, espouse human rights while concurrently violating them in Cuba and elsewhere.
A little consistency would aid credibility. But deeply ingrained in most of us is a sense of what´s just and what´s not.
We know the Chinese misread the tea leaves on this one big time. And they are beginning to soften a bit.
Weiwei will no doubt do some time in prison for some white collar crime like tax evasion, maybe serve six to eight months.
But there´s too much at risk for the Chinese to come down hard on Weiwei; yet, China must also save face.
Eventually, sooner rather than later, Ai Weiwei will turn up at his new Berlin studio and the 2012 Berlin Bienniale.
Nonetheless, all torture, all unlawful detention must be abhorred, regardless of who employs them.
There is, therefore, no rational use of violence, regardless of who attempts justifying it, except self-defense.
There´s nothing on the UCCA website to suggest the event even happened, although we must take the gallery at face value it did.
But it wouldn´t be the first time UCCA cancelled what it thought a "sensitive event."
UCCA Takes on ART HK 2011
Photograph by Peter Lindberg
It also surges ahead with eye-popping and thoughtful shows: Peter Lindberg´s Unknown, a fine art photographic retrospective, ending 22 May.
Running concurrently and curated by Yang Shaobin, UCCA introduces young painter Kong Lingnan and her "luminous landscapes inspired by the body of our Mother Earth," according to UCCA, in a show, "Only Her Body."
"Only Her Body" exhibition by Kong Lingnan, curated by Yang Shaobin
The new UCCA, under Chinese ownership, then heads south to Hong Kong, where there once touted then cancelled and now disappeared artist, Ai Weiwei, was headed when police nabbed him at Beijing airport.
It´s the Hong Kong International Art Fair (ART HK 2011), which kicks off 26 May ending 4 days later.
According to UCCA´s newsletter, original and limited editions of these artists will be available:
Liu Xiaodong, Zhang Xiaogang, YuFan, Huang Yan, Weng Fen, Zhong Biao, Ma Liang, Chen Qingqing, and "other luminaries of the Chinese art world, plus some rising stars you won´t want to miss," UCCA´s PR people added.
Rock on and practice peace and love.
Stefan, the ArtTraveler ™