Miami Herald journalists staged replica rooster scarifice to stave off the mothership´s cutting 250 newsroom jobs
Rooster in foreground stolen and returned to Little Havana, Miami restaurant
Thieves recently returned a stolen 70-pound sculpted fiberglass hand-painted Cuban rooster to Little Havana minus its patriotic, red, white and blue feathers.
It flew back to Calle Ocho in front of El Pub on Calle Ocho as suddenly as it had vanished in mid-September.
You could hear a collective Cuban sigh of relief in Miami, especially among Cuban artists and more particularly, those who sculpt and paint birds, big birds.
The rooster is a traditional symbol of Cuban manhood, strength, nobility, courage and cockfights. It´s also an integral feature of blood sacrifice in the Afro-Christian Cuban Santeria religion.
The proud sculpture and symbol of Cuban manhood stood firmly (and proudly) bolted and superglued to the sidewalk outside El Pub in Miami´s Little Havana.
He had a good mate a few meters away, painted red, black, yellow and white.
A Santeria priest had even blessed the pair of plastic strut-abouts.
El Pub became an instant Little Havana icon thanks to the two studly birds.
But suddenly, mysteriously the rooster wrapped in the US and Cuban flags as palette and pattern, went missing.
This is no ordinary fiberglass rooster.
Juan Ma´s version of my Fred, 2009
Stolen, unglued and unbolted. Think Free Willie or is it Free Willy? This rooster, incidentally, has no name as far I could discern.
I will call him Fred.
The freed Fred created frenetic fears in the Cuban-American enclave in Miami, which is most of the city.
Who could have ripped off or ripped out of the sidewalk Big Bird? Had Fred become someone´s pulverized poultry?
Fred is very, very special and very, very Cuban.
He´s home-grown, sculpted and painted by Tony Lopez, who died lin August, Ramon Lagos, Lazaro Valdez and Pedro Damien. These artists specialize in roosters, well, birds anyway.
In one dramatic account, Damien lamented Fred´s newfound freedom, calling the thieves "predators." I told you Damien was into birds.
Pablo Canton of the Little Havana Neighborhood Enhancement Team (NET) is quoted by local media saying: "Maybe they wanted to make arroz con pollo ... I'm glad it's back."
Canton, who also had a primary role in painting the rooster, said he had been in mourning since discovering Fred´s flight from his moorings.
NET owns the pair of Big Birds.
The Cuban Rooster
On 22 September, bruised, a bit battered and painted all white by the pair of Florida International University (FIU) student pranksters, Fred re-appeared as it had vanished--suddenly and mysteriously.
The two pranksters who absconded with the proud symbol of Cuban manhood (think cockfight) vandalized the art by spray painting it white, obliterating the United States and Cuban flags on this proud piece of plastic poultry.
Apparently overwhelmed with guilt and consummate remorse and fearing harsh retribution Cuban style, the two FIU students surreptitiously returned the Little Havana icon (Fred), agreeing to pay for all restoration and repair.
Canton, who pulled off the swap, made it sound like an event played out in a spy vs. spy on a midnight misty bridge exchange of prisoners near Checkpoint Charlie in Berlin.
Canton refuses to identify the students;in fact, he says he doesn´t know who they are and is simply happy to see Fred home again.
Fred faces Canton´s tender artististic and patriotic makeover before being superglued and re-bolted to Calle Ocho again.
Santero prepares two roosters for sacrifice
Canton considers the whole thing a not-so-innocent fraternity stunt. Case closed.
The college students, however, should keep their mouths shut, which is most unlikley, since the cops say this remains "an open investigation."
(When these students become investment bankers, that´s the time to reveal their wicked crime against Miami´s Cuban population.)
Fred´s travails became an instant media hit.
Where´s Fred? Who stole Fred?
The journos at the Miami Herald, many Cuban of course, and who knows how many practioners of Santeria among them, decided in a separate rooster incident to create their own version of Fred.
The replica would be sacrificed for good luck in and for the newsroom staff, who were then under seige by their bosses.
A blood sacrifice, metaphorically speaking, seemed the right thing at the right time.
A handful of resourceful journos created a Fred look-a-like for a ritualized Santeria sacrifice, sending a message to the Herald´s mothership to halt plans cutting 250 jobs from editorial.
Desperate times call for desperate acts even by presumably well educated and intelligent people.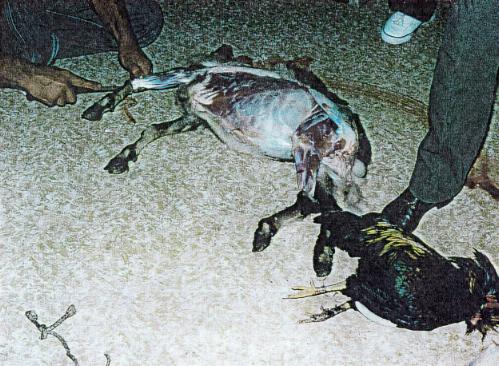 Animal sacrifices are a traditional part of Cuban Santeria religion
Rock on and practice peace and love.
Stefan, the ArtTraveler ™
ArtTraveler notes:
After living at the Hotel Queen Mary in Budapest (3.5 stars), I heartily recommend it: old on the outside, otherwise totally modern (23 rooms);
The owner and staff are affable and speak English and German. Tel: 0036-1-413-3510; www.hotelqueenmary.hu; info@hotelqueenmary.hu.
Visit Andalusia for a walking holiday or week-long sculpture or mosaics workshop.