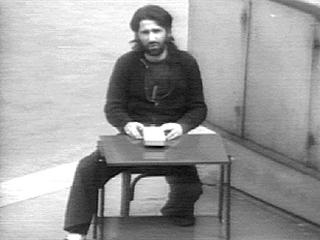 Peter Weibel, "Synthesis" 1967 (c) Peter Weibel
The young radical conceptual art activist Peter Weibel of 1967 appears above somewhere in Vienna.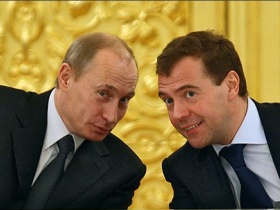 BEFORE & AFTER
Leonid Brezhnev, author of the invasion and occupation of Czechoslavakia, 1968
Putin as Brezhnev from (c) Moscow Times 30 Sept. 2011, no credit stated for art





The art I found most satirical and if I were Putin, politically unsettling, appeared on page one of the Moscow Times on 30 September without the artist´s credit and likely for good reason.
Scores of journalists have been murdered since Putin stepped down as a Lt. Colonel in the KGB and stepped up to rule Russia with a firm grip.
Would artist-dissidents be imprisoned or killed in today´s Russia?
They kill journalists, why not unruly, trouble-making contemporary artists like Ai Weiwei?
Peter Weibel now
In 1985, three avant-garde artists in Leningrad (St. Petersburg) did three years in prison for a wall installation condemning state repression of artististic freedom.
"We won´t exclude any form of artistic expression," Weibel said in August in a news release on his show´s official website.
(Except patently provocative and politically potent art unkind to Russia´s rulers.)
A work by Moscow´s Blue Soup Group
Weibel, born in Odessa but living outside the former USSR in Austria
during the Cold War,
and now in Karlsruhe, Germany, navigates a course of caution and moderation.
Evolution not revolution.
The closest he´s come to making waves is hosting an Ai Weiwei politically impotent video.
Weibel and the Russian Federation got some back-channel pressure from China to kill the Ai Weiwei submission, according to online news reports.
By Russian group Electo Boutique


Weibel and Russia stood firm, grabbed some banal but positive headlines, as though championing freedom of artistic expression.
At about the same time, Weibel released a list of the 81 participating artists he curates in the main exhibition before its 22 September opening.
It was not in alphabetical order. There was no order, just chaotic listing.
Weibel put Ai Weiwei at No. 78, which might have cheered Chinese authorities.
Who knows? Such gestures may carry diplomatic weight.
The Learning Film Group, video 2008 Vyscany Congress (Nikolay Oleynikov, Yevgeny Fiks, Ilya Budraitski)
While Weibel´s biennale of artists from 33 countries presents an ambitious agenda through its 30 October closing, its curator has buried the body politic.
Russian artists, if their Google images reflect what´s showing, fail to take their works into the political domain, not even satirizing Putin´s plutocracy as did the Moscow Times on 30 September.
In the exhibition´s press kit, Weibel said he studied about 300 portfolios from Russian artists.
He noticed what he called a tendency for "decompression" and "deframing."
Weibel described "deframing" as artists withdrawing works from public places "to protect the autonomy of the artwork."
I have no clue what happens to an artist who decompresses.
This must be his euphemism for artists going into hiding, scared they and their works would be confiscated, imprisoned, as many were during Soviet years.
The separation between art and politics operates in China. It appears to be the norm in Russia.
A work by Valery Chtak
Mural fragment by Alina Gutkina
Can unfettered expression of non-political contemporary art erode autocratic regimes, eventually liberalizing political as well as artistic freedom?
Let´s discuss it. There are more posts on this subject coming. Be a part of the discourse.
Note: I examined images of works by 10 Russian artists Weibel touted at a news conference (some of their works appear in this post).
As well, I randomly surveyed images of 13 of the 34 Russian artists or groups participating in the separate "International Festival of Activist Art" curated by Tatiana Volkova, Anna Dikovich, Roman Minaev and Arseniy Sergeev.
It opened 24 September and closes 10 October.
A work by Taisiya Korotkova (2010)


Islamic art and design at Granada´s Alhambra, photograph by Stefan van Drake (2009)
Rock on and practice peace and love.
Stefan, the ArtTraveler (TM)
Contact me about arts happenings: stefanvandrake@gmail.com or call (34) 951 067 703 or from the UK at BT landline rates, 0844 774 8349.