Hungarian government plans closing National Gallery, pictured above
New Hungarian arts czar Laszlo Baan´s daydream of a €150 million pair of new museums morphs into a nightmare for the Budapest art establishment as protests mount.
Laszlo Baan
After ViktorOrban´s autocratic far-right government on 20 October gave the green light to Baan´s scheme of a "Museum Quarter" merging the collections of the National Gallery and Museum of Fine Arts, curators, artists, museum directors (except one) cried foul, claiming this is nothing more than a power grab.
The Hungarian castle on the Buda side of Budapest houses the National Gallery and History Museum
This follows Orban´s February surprise move cancelling plans for a fully-funded €18 million (90 percent EU money), 8,000-square-meter underground expansion of the Museum of Fine Arts in central Budapest.
The 20 October decision mandates closing the Hungarian National Gallery, which houses the Hungarianl collections of about 100,000 pieces.
There´s a groundswell of protest erupting.
All the professionals are against it, an independent Hungarian curator told ArtTraveler.
Heroes Square in central Budapest at city park
On 25 October, the Hungarian section of the International Association of Art Critics (AICA) approved a resolution vigorously opposing Baan´s plan.
"The government´s cultural policy has no concept at all relating to the financing and operation of public collections.
"In this environment [Hungary may soon be another Greece] it is an enormous mistake to close down an institution [the Hungarian National Gallery] and launch an investment probably involving huge sums without any concept, reasoning or exchange of views with the profession whatsoever," the Hungarian art critics said in a prepared statement.
Budapest museum directors and curators tell me museums are broke, fiscally flat-lined.
Where´s the funding for this dreamscape of a new Museum Quarter in Budapest´s city park at Heroes Square?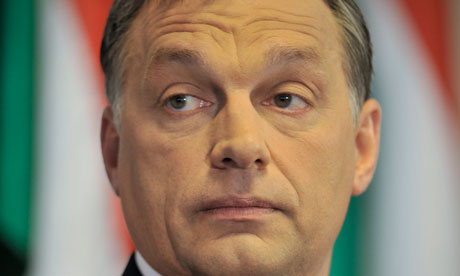 Viktor Orban
Few arts professionals believe this Museum Quarter project will ever happen, according to my sources in Budapest.
The government´s 20 October decision to build what Baan calls the "New Gallery" comes with no prior consultations with art professionals, no feasibility plans or impact studies.
What irks the arts establishment: Politicians not arts professionals decided this less than a month after politician turned museum director Laszlo Baan became government commissioner for the new Museum Quarter. (See the Laszlo Baan Chronicles below.)
"The government has provided neither a concept in support of this decision nor any reasoning for it," according to the Hungarian AICA.
Laszlo Baan
The Laszlo Baan Chronicles
1957
Communist Hungary adopts Soviet Model, taking Hungarian art from the Museum of Fine Arts, establishing Hungarian National Gallery, a bifurcation of collections.
18 July 1961
Laszlo Baan is born in Budapest.
1980 – 89
Baan studies philosophy and political science at Karl Marx University of Economics, Budapest, earning a PhD degree in political science. He has no prior formal education or training in art or art history. He is a trained and educated, veteran politician and administrator.
1998
Baan returns to the Fidesz political party and becomes a Deputy Secretary in the Ministry of Culture.
2002
Another change in federal government as democratic socialists head coalition. Fidesz stood in opposition.
2004
Baan, deputy state secretary in the Ministry of Culture, responsible for awarding tenders (appointments) for the Museum of Fine Arts director general, applies for the position and wins it.
4 Sept. 2009
Baan announces that EU agrees to fund 90 percent of estimated 18 million Euro cost of an 8,000 square meter expansion of the Museum of Fine Arts.
May 2010
Viktor Orban´s right-wing government (Fidesz) whips socialists convincingly (two-third majority), gaining control for four years without need for a coalition.
February 2011
Orban´s government kills the €18 million expansion project shortly before the groundbreaking to start work.
In politically correct cultural exchange, Orban calls on obscure Budapest Forras Gallery owners to curate huge "contemporary art" show in Beijing in which Baan plays a key role. Baan´s wife, Andreas Batorfi, an amateur photographer, participates in the show that had no printed catalogue. The Chinese will reciprocate in August 2012. Budapest artists, curators and museum directors call the show "scandalous."
18 Aug. 2011
Baan asks Orban´s government for two new museum buildings costing an estimated €150 million, one called the "New Gallery" for Hungarian and European and classical works, the other for primarily Hungarian photography.
3 Oct. 2011
Orban´s Minister of Culture appoints Baan as the Museum Quarter government commissioner, serving with no pay for a term expiring in 2014.
20 Oct. 2011
The Orban government approves plan to merge National Gallery and Museum of Fine Arts into Baan´s "New Gallery," giving the green light to Baan to proceed with no consultations, risk analysis, impact assessments, basically by executive order.
23 Oct. 2011
German conductor Cristoph von Dohnanyi (of Hungarian origin) cancels two appearances at Hungary´s State Opera to protest right-wing anti-Semitism in Hungary.
October 2012
The date Baan had previously estimated the previously planned 8,000-square-meter expansion to the Museum of Fine Arts would be completed.
2013
The year Baan said he would open international competition for architects and designers for his "New Gallery."
2014
Estimated groundbreaking for the "New Gallery" to be located behind the current Kunsthalle (Mucsamok) contemporary art museum at Budapest´s City Park.
30 Nov. 2014
Expiration date of Baan´s appointment as a government commissioner of the "Museum Quarter."
2017
When Baan estimates his "New Gallery" will be open for business.
The Museum of Fine Arts Budapest at Heroes Square
150 million
In Euros, Baan´s current estimated cost of his planned "Museum Quarter."
45
The percentage of Hungarians willing to replace the democratic system with a right or left-wing authoritarian system provided such a system assures faster economic progress (October 2011 telephone survey of 1,000 people by Nezopont Institute.)
8,000
In square meters, the size of the funded Museum of Fine Arts expansion that Viktor Orban killed in February.
40 billion
In Hungarian Forints, the current estimated cost of two new art museums in Budapest.
105
Age in years of the building currently housing the Museum of Fine Arts.
Rock on and practice peace and love.
Stefan, the ArtTraveler ™
ArtTraveler notes:
After living at the Hotel Queen Mary in Budapest (3.5 stars), I heartily recommend it: old on the outside, otherwise totally modern (23 rooms);
The owner and staff are affable and speak English and German. Tel: 0036-1-413-3510; www.hotelqueenmary.hu; info@hotelqueenmary.hu.
Visit Andalusia for a walking holiday or week-long sculpture or mosaics workshop.
"Spanish Life Stilled" Photograph by Stefan van Drake (2009)