Philip Akkerman, self-portrait (2007)
Again and again and again.
The Dutch master of the self-portrait (in three sizes only) since 1981, Akkerman in more than 400 transformations appears in "Akkermania," at the Kunsthal Rotterdam, which continues until 26 June.
Philip Akkerman, self-portrait (2004)
Apparently, it´s hip to collect Akkerman self-portraits, since Kunsthal Rotterdam called on 11 collectors to share their hordes of Akkermans for public consumption.
Rarely has one man´s ego been so visually profitable?
The artist, who paints in oils and tempera, employs techniques used by the Old Masters.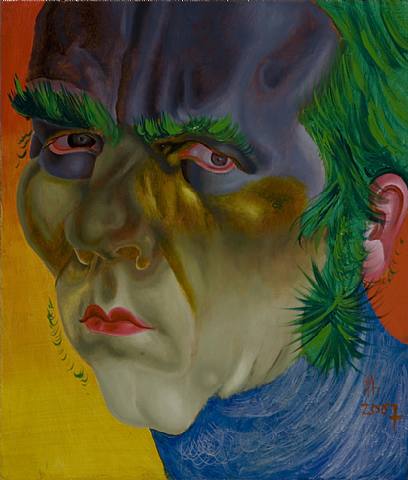 Philip Akkerman, self-portrait (2007)
In other happenings affecting Dutch artists
:
ARCO Madrid 2012 recently awarded the Netherlands Special Guest status at the International Contemporary Art Fair set for 15 – 19 February, 2012.
Emphasizing the Netherland´s global credentials in design, Carlos Urroz, ARCO Madrid director, said he wants Dutch artists and galleries to get deserved extra attention, as ARCO Madrid showcased Latin America this year, according to a news release.
There´s more to the award.
A delegation from Madrid in July heads to Holland to confer with art directors there, mapping a special guest country program, also designed to enhance cross-cultural cooperation.
The Mondrian Foundation, charged with designing the Dutch Pavilion, will work alongside a Spanish curator on the guest country project.
Design Miami/Basel, Basel Switzerland, 14 – 18 June. Artnet Design reports 35 dealers, a few more than last year, will converge in Basel, Switzerland for the 12th annual design fair.
The Eurocentric event this year hosts seven dealers from the United States: Demisch Danant, Hostler Burrows, Johnson Trading Gallery, R 20th Century, Matter, Cristina Grajales and Ornamentum.
Dutch painter Andre Balyon, born in The Hague and now living in Carmel, Ca., exhibits his oils and watercolors from private collections.
"A September Morning" by Andre Balyon
Balyon has exhibited internationally.
Rock on and practice peace and love.
Stefan, the ArtTraveler™
Contact me at stefanvandrake@gmail.com or by calling (34) 951 067 703, or from the UK at BT landline rates, 0844 774 8349.